42 Wonderful Facts about Virginia Woolf
Adeline Virginia Stephen, or simply Virginia Woolf as you probably know her, is one of the most important English modernist writers of the 20th century. She was a great writing stylist, experimenting with biographical writing, short fiction, and a lifetime of marvellous letters sent to her family and friends.
Virginia's narrative was brilliant in depicting the infinite thoughts and feelings which pass through the mind. But what was truly going on in her brilliant mind? For a better understanding of her brilliance read these interesting facts about Virginia Woolf…
Virginia Woolf was born on the 25th of January, 1882 into a privileged English household. She was raised by free-thinking parents.
Virginia's father, Sir Leslie Stephen, was a historian and author, as well as one of the most noticeable figures in the golden age of alpinism.
Virginia's mother, Julia Prinsep Stephen was born in India and later served as a model for many Pre-Raphaelite painters. She wrote a book about her profession as a nurse.
Before marrying each other both of her parents had been married and widowed.
Woolf had 3 siblings, Thoby, Vanessa, and Adrian.
She had 4 half-siblings, Laura Makepeace Stephen and George, Gerald and Stella Duckworth.
The eight children lived at 22 Hyde Park Gate, Kensington. Two of Virginia's brothers had been educated at Cambridge. The girls were taught at home and used the splendid confines of the family's lavish Victorian library.
Virginia's parents were well connected, both socially and artistically.
William Thackeray, George Henry Lewes, as well as many other noted thinkers were friends of her father.
The famous 19th-century photographer, Julia Margaret Cameron was her mother's aunt.
Virginia spent her summers in St. Ives, a beach town at the very south-western tip of England.
The Stephens' summer home, at Porthminster Bay had a view of the Godrevy Lighthouse, which inspired her writing.
Virginia recalled St. Ives with a great fondness in her later memoirs. She included scenes from those early summers into her modernist novel, To the Lighthouse.
She was curious, light-hearted, and playful as a young girl.
To document her family's humorous anecdotes she started a family newspaper, the Hyde Park Gate News.
In her childhood, she was sexually abused by her half-brothers George and Gerald Duckworth.
Virginia wrote about this traumatic event from her childhood in her essays A Sketch of the Past and 22 Hyde Park Gate.
Her mother died from rheumatic fever in 1895.
Virginia was only 13, and her mother's sudden death led to her first mental breakdown.
Two years later her half-sister Stella, who had become the head of the household, died as well.
Virginia continued her studies in German, Greek, and Latin at the Ladies' Department of King's College London while dealing with her losses.
She was introduced to a handful of radical feminists at the helm of educational reforms during her 4 years of study.
Another emotional setback that led to her institutionalization for a brief period in 1904 was her father's death from stomach cancer.
Virginia Woolf's dance between literary articulation and personal unhappiness would continue for the rest of her life.
She suffered from a deep depression in her personal life.
At the age of 22, Woolf tried to kill herself by jumping out of a window. Luckily the window wasn't high enough to cause her harm.
She started writing professionally as a contributor for The Times Literary Supplement in 1905.
A year later, another tragedy happened, Virginia's 26-year-old brother Thoby died from typhoid fever after a family trip to Greece.
Virginia's sister Vanessa and her brother Adrian sold the family home in Hyde Park Gate, after their father's death, and bought a house in the Bloomsbury area of London.
During this time, Virginia met many members of the Bloomsbury Group, a circle of intellectuals and artists.
The art critic Clive Bell, who married Virginia's sister Vanessa, the novelist E.M. Forster, the painter Duncan Grant, the biographer Lytton Strachey, economist John Maynard Keynes and essayist Leonard Woolf were among the members of the Bloomsbury Group.
In 1910 the group became famous for the Dreadnought Hoax, a practical joke in which members of the group dressed up as a delegation of Ethiopian royals, effectively convincing the English Royal Navy.
Leonard Woolf and Virginia became closer, after the outrageous act, and eventually, they were married on the 10th of August, 1912.
For the rest of their lives, they shared a passionate love for one another.
They had an understanding in their marriage, so when she met fellow writer Vita Sackville-West, the romantic relationship that developed between them was not secret or illicit and was, in fact, something that the women talked openly about.
Virginia had begun working on her first novel several years before marrying Leonard.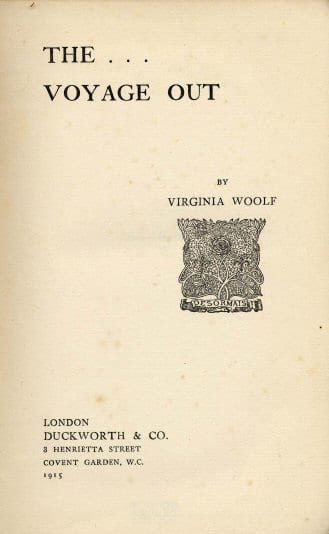 The original title of her first novel was Melymbrosia. It was released in 1915, as The Voyage Out After, after 9 years.
Virginia experimented with several literary tools with this book, including compelling and unusual narrative perspectives, dream-states, and free association prose.
Virginia and Leonard purchased a used printing press and established Hogarth Press, their own publishing house operated out of their home, Hogarth House.
They published some of their writing, as well as the work of Sigmund Freud, Katharine Mansfield, and T.S. Eliot.
Virginia Wolf wrote modernist classics like Mrs. Dalloway, To the Lighthouse, and Orlando, as well as feminist works, A Room of One's Own and Three Guineas.
In 1941, at the age of 59, she committed suicide.
Do you have any interesting or fun facts about Virginia Wolf that we've missed? Share them here in the comments section below!
This page was last modified on January 27, 2021. Suggest an edit