13 Wonderous Facts about Walt Disney
Who hasn't heard of Walt Disney? The world-famous artist and animator set up his studio in the 1920s, facing all kinds of hurdles and obstacles on his way to global success. Today, many years after his passing, the name Disney is synonymous with fantastic animated movies and wonderful theme parks. Here are some fun facts about Walt Disney that could surprise you.
1. He was born at the turn of the century.
Walt Disney was born on December 5th 1901, in Idaho, one of five children.
2. He was a newsie!
Disney's father bought a newspaper route for deliveries in 1910, and he delivered newspapers around his school schedule as a youngster.
3. He spent plenty of time on the farm.
The Disney family moved to Chicago and had a farm. Walt found himself working to produce fruit juice and jelly as he got older – but that wouldn't be where he'd eventually make his legacy!
4. Disney knew his passion from an early age.
Disney left school at 16 – having developed a passion for drawing and cartooning.
5. However, he did his bit for the war effort, too.
As the country was at war at the time of his leaving school, Disney was officially too young to join the Red Cross – however, he still did so by forging his birth certificate. He altered his age from 16 to the required minimum age of 17!
6. But, he'd come back and find his design roots again.
Disney was sent to France during his deployment, then returned to Kansas, US – where he wanted to develop a career drawing cartoons for newspapers. Instead, he became an advertising designer for print media – and he gradually became interested in animation.
7. It all started in 1922.
Called 'Laugh-O-Gram', Disney's first productive film studio opened in 1922 – but sadly failed financially. He was forced to close in 1923.
8. But, Disney soon bounced back.
Roy Disney, Walt's older brother, joined him to start the famous Disney Brothers studio in Hollywood in 1923. They focused on what they were good at – making cartoons!
9. Mickey wasn't Disney's first mascot.
Disney didn't start out with Mickey Mouse! Oswald the Lucky Rabbit was the name of the lead character in their series. Oswald proved to be unlucky for the brothers when they lost the rights to this character! However, as Disney as a company has expanded enormously over the years, Oswald has returned to the Disney umbrella.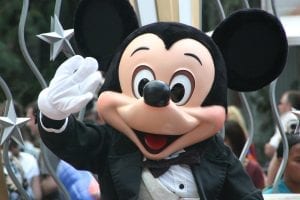 10. In fact, he wasn't even called Mickey at the start.
Starting out as 'Mortimer', Walt Disney actually performed the original speaking parts for Mickey. His voice was easily recognisable, and the character soon became an animated icon. Who hasn't heard of Mickey Mouse, honestly?
11. That whistling rogue!
Disney's maiden voyage for Mickey Mouse was 'Steamboat Willie', released in 1928. To this day, you can still see a short clip of Mickey spinning the boat's wheel and whistling at the start of most of Disney's animated features.
12. Walt kept voicing Mickey until the late 40s.
Mickey Mouse's first spoken words were 'hot dog, hot dog' in the film 'Karnival Kid'.
Walt Disney continued to be the voice of Mickey from then until 1947, when other demands on his time forced him to hand over the speaking part.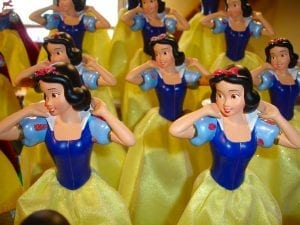 13. Disney wasn't just passionate about film!
Aside from animation and film, Walt had a passion for trains and railways. His hobby was building train sets – and, eventually, he constructed a half-mile track around his property. He dressed up in the costume of a driver, inviting guests for a ride on his train, which was a one-eighth-scale model of a real train.
FAQs about Walt Disney
Was Walt Disney cryogenically frozen?
No. There was a media frenzy surrounding Disney's final resting place. Wild claims he was to be cryogenically preserved were disproved, and his ashes are retained at Glendale Mausoleum. His legacy continues to touch the lives of millions every day!
Further reading
https://factcity.com/tag/disney/
https://www.biography.com/business-figure/walt-disney
https://www.snopes.com/fact-check/suspended-animation/
Do you know any fun facts about Walt Disney?  Share them in the comments below!