30 Wondrous Facts about Warwickshire
Warwickshire is a hugely famous county replete with history, heritage, and beautiful scenery. In particular, many people will head to this county to learn more about William Shakespeare through his hometown of Stratford. Warwickshire is large, yet sparsely populated – meaning that there are plenty of opportunities for you to sample wide, sprawling walks and riverside scenery.
Even if you live in the county, there may still be a few things you don't know about Warwickshire and its amazing history. Therefore, set some time aside and take a look through our fact file below to dive into the weird and wonderful Warwickshire past!
Warwickshire is a county in England, in the region known as the West Midlands, and its main town is Warwick.
Warwickshire covers an area of 1,975 square kilometers in total.
Warwickshire has many interesting tourist sites and historic sites of importance. Warwick Castle, for example, hosts tours of its dungeons – and many believe the Castle is haunted!
A number of famous people born or brought up in Warwickshire include TV chef Gordon Ramsay, novelist George Eliot, musician James Morrison, and actress Kate O'Mara.
Of course, it is also the birthplace of William Shakespeare. He was born on April 3rd, 1564 in Stratford Upon Avon.
The River Avon runs throughout Warwickshire, traversing five counties. It is the longest river in the UK, coursing some 85 miles.
This river runs in part along with Shakespeare's 'Avon Way'. This is a pathway which forms part of the Avon Ring. This is 109 miles of navigable waterway via the use of nine different locks. It's a popular picnicking hotspot.
Each of the county's districts house at least part of the UK's 'Green Belt'. This was deliberately planned by Government.
Quarry Park Disc Course, at Leamington Spa, is a popular family activity resort with a difference. Visitors here play 'disc golf' – combining frisbee and mini golf in one package.
Warwickshire is also famous for its fantastic swimming locations. Visitors can find 'The Old Swimming Place' at Saint Nicholas Park, Warwick, for example.
Warwickshire has a hugely successful Symphony Orchestra and has a special place at the British Library Archives.
Coventry is reportedly famous for being the birthplace of the British motor industry. It's here where Henry Lawson first set up Daimler in 1896.
However, much in the way of car manufacturing moved away from Coventry in the decades since. For example, Jaguar moved away from the area as recently as 2004.
Ancient Warwickshire was covered by Forest, named in the Doomsday Book as the Forest Of Arden.
Warwickshire has a certain way of naming bread rolls. They call them 'batches', whereas other regions and counties might call them 'baps' or 'cobs'.
Names of places ending with the letters 'Ley' or 'Leah', meant ' in the forest' in Old English. An example of a such a settlement is 'Henley' in Arden, Warwickshire.
It is thought that Warwickshire has been inhabited for at least 500,000 years, since the arrival of people during the Stone Age.
Several old flint tools and artefacts have been found in and around Blacklow Hill, near Warwick, signifying human settlements existed there.
It is believed these forest dwellers were hunters. Spears and arrows have been found and it is known that early settlers lived in woodland using wood for warmth and constructing shelters.
The phrase 'sent to Coventry' refers to a period during which royalists where dispatched to the town to face social exclusion. This was during the English Civil War in the 1800s.
There is evidence of Roman settlements in and around Warwick and pottery has been found from that era.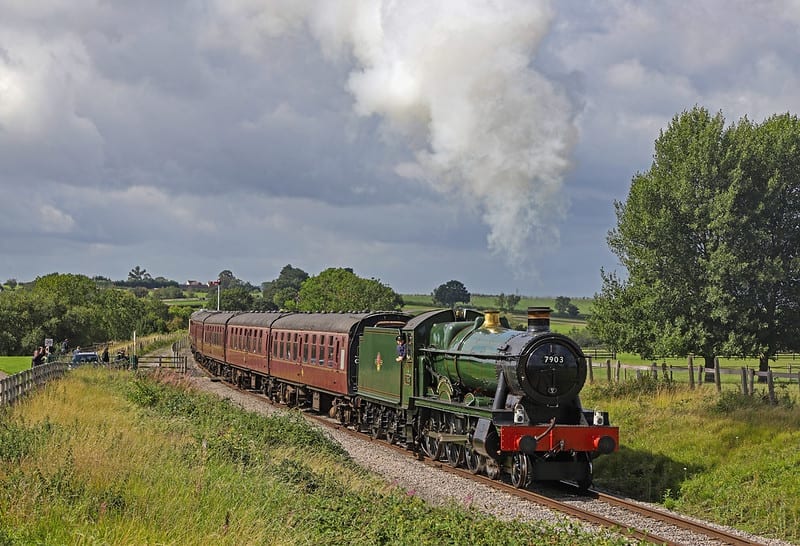 Warwickshire and Gloucestershire run a classic steam train service which is a popular tourist attraction.
Warwick Castle houses many special events and there are many concerts as well asever-popular firework displays.
Falconry made its way to Warwick Castle in 2019. Alongside 'dragons' entertaining visitors, there were jousting displays and horseback trials.
Despite its relatively large size, Warwickshire is only thought to be home to around 536,000 people.
Warwickshire is serviced by three airports, with Birmingham being the largest. Coventry and Wellesbourne Mountfield Airport are the two remaining airports, which service wider flights.
Ever tried Coventry Godcakes? These treats are made with puff pastry, wrapped around a mincemeat filling with usually three slashes cut across the top. People have often heard of eating like a king, but rarely eating like a God!
There are several breweries in Warwickshire. Perhaps the best-known of them all is the aptly-named Warwickshire Beer Company, based in Leamington Spa.
Warwickshire is well-known for its traditional pub scene. For example, one of the most popular is called 'The Yard of Ale' in Stratford Upon Avon. It's an ancient inn, but it serves modern drinks and dishes.
The Royal Shakespeare Company, naturally, has a firm place in Warwickshire. The Prince of Wales is the sitting President, and regularly visits Stratford wherever possible.
Warwickshire was also famously the home of Lord of the Rings author JRR Tolkien. If you visit Sarehole, Birmingham, you'll find many locations Tolkien took inspiration from for Middle Earth.
The Stag is a function room unlike any other. It's said to be haunted! It dates back to the 17th century and was once used as a court house.
Macdonald Alveston Manor has prominence in Shakespeare's playwrighting history, too. It's thought that 'A Midsummer Night's Dream' debuted here before any other venue.
Warwickshire has prominence in the Gunpowder Plot. Specifically, it was Guy Fawkes' plan to kidnap King James' daughter, Princess Elizabeth, from Coombe Abbey. He'd intended to install her as monarch should his assassination of the King carry through. We know how well that turned out!
Do you have any interesting or fun facts about Warwickshire that we've missed? Share them here in the comments section below?
This page was last modified on December 17, 2020. Suggest an edit