✈️ 11 Fun Facts about London Heathrow Airport
Want to increase your knowledge of the UK aviation scene?  Here's 11 fun facts about London Heathrow Airport…
1.   London Heathrow Airport's humble beginnings
Heathrow started life in 1930 as a single grass runway.
2.   London Heathrow Airport employs more people than you might imagine
Based in West London, near Hounslow, Heathrow airport employs a staggering 76,000 people – that's the same population as Bracknell.
3.   London Heathrow Airport serves a staggering number of passengers
In 2018 Heathrow Airport served over 80.1 million passengers – that's an average of 219,458 passengers every day!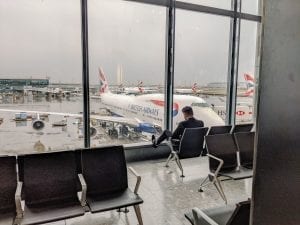 4.   In fact, the number of flights is pretty impressive too
1,400 flights take off and land at Heathrow every day – one flight every 45 seconds!
5.   Want to travel? Choose from the most popular Heathrow destinations
The most popular destinations to fly to are New York (JFK), Dubai (DBX), Dublin (DUB), Amsterdam (AMS) and Hong Kong (HKG).
6.   The busiest airport in the world… For quite some time
Until recently, London Heathrow was the busiest airport in the world (by passenger traffic).  In 2019 it ranked at #7.
7.   Heathrow's unique code
Heathrow's airport code is LHR.
8.   London Heathrow Airport started off small
Before Heathrow had 5 numbered terminals, 'Europa' and 'Oceanic' were its 2 main terminals.
9.   VIP's LOVE terminal six
There's one more 'secret' terminal – terminal six.  It's a very small terminal exclusively used for VIPs and includes the Windsor Suite which is for members of the Royal family, visiting dignitaries, and heads of state, and some celebrities.  It costs £1,500 per person per visit to use.
10. The northern runway  vs. the southern one
Heathrow's Northern runway is longer than the Southern, running a length of 2.425 miles.
The Southern runway is 2.273 miles – that's 0.152 miles shorter.
11. A supersonic journey from Heathrow to JFK
Concorde, the world famous supersonic aircraft, flew daily from London Heathrow to New York (JFK) – a journey that took just 3 hours 30 minutes.
FAQs about London Heathrow Airport
What happens to animals arriving or leaving London Heathrow Airport?
Hundreds of thousands of animals transit through London's Heathrow airport every year. A special 'Animal Care Centre' is situated near terminal 4. It is temperature controlled with a spacious outdoor exercise area.
What animals are flown in and out of Heathrow Airport?
Approximately 28,000 fish,2,000 birds, up to 200,000 reptiles and up to 16,000 dogs and cats come to this airport each year!
Who looks after the land at Heathrow Airport?
In 2021, the contract for land management at the airport was given to the company Glendale. The five year contract was secured for a fee of £3 million.
Do you know any fun facts about London Heathrow? Share them in the comments below!
Are you fascinated with all things aviation? Check out these brilliant facts about British Airways…
This page was last modified on October 2, 2021. Suggest an edit