Want to discover some interesting facts about London Heathrow Airport?  Here's 12 brilliant facts to learn:
Based in West London, near Hounslow,  Heathrow airport employs a staggering 76,000 people – thats the same population as Bracknell
In 2018 Heathrow Airport served over 80.1 million passengers – that's an average of 219,458 passengers every day!
1,400 flights take off and land at Heathrow every day – one flight every 45 seconds!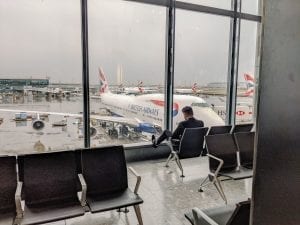 The most popular destinations to fly to are New York (JFK), Dubai (DBX), Dublin (DUB), Amsterdam (AMS) and Hong Kong (HKG).
Until recently, London Heathrow was the busiest airport in the world (by passenger traffic).  In 2019 it ranked at #7
Heathrow's airport code is LHR.
Before Heathrow had 5 numbered terminals, 'Europa' and 'Oceanic' were its 2 main terminals.
There's one more 'secret' terminal – terminal six.  It's a very small terminal exclusively used for VIPs and includes the Windsor Suite which is for members of the Royal family, visiting dignitaries, and heads of state, and some celebrities.  It costs £1,500 per person per visit to use.
Heathrow's Northern runway is longer than the Southern, running a length of 2.425 miles.
The Southern runway is 2.273 miles – that's 0.152 miles shorter.
Concorde, the world famous supersonic aircraft, flew daily from London Heathrow to New York (JFK) – a journey that took just 3 hours 30 minutes.
Do you have any interesting or fun facts about London Heathrow that we've missed? Share them here in the comments section below!