Remembered by many as the most impressive and glamorous passenger aircraft ever built, here's 12 interesting facts about Concorde:
Concorde was designed and built by British and French engineers in the 1960s.
Its name was chosen as the word 'Concord' means 'Agreement' in both French and English
Concorde's first commerical flights were on 21st January, 1976.  British Airways flew from London Heathrow to Bahrain and Air France from Paris to Rio de Janerio.
Concorde was one of only two supersonic aircraft to have ever operated commercially. (A soviet aircraft dubbed Concordski by the British press is the other).
Its engines were so powerful that while on the ground, pilots would use only two of Concorde's four Rolls Royce engines to make taxiing around the airport easier.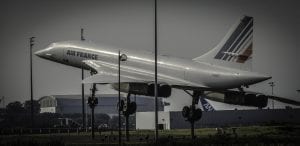 Concorde's cruising speed was 1,350 miles per hour and could reach speeds of over 1500mph! (That's twice the speed of sound, or mach 2).
Concorde flew higher than any other commerical aeroplanes, cruising at an altitude of nearly 60,000 feet.  That's high enough to see the curvature of the Earth!
Concorde was coated in special white paint to avoid overheating during supersonic flight. The short-lived exception was in 1996 when an Air France Concorde was painted blue as part of a marketing campaign for Pepsi. This restricted the aircraft's speed and it only made 16 flights before going back to its normal livery.
With a capacity of just 100 fare paying passengers, a crew of nine were used: two pilots, one flight engineer and six flight attendants.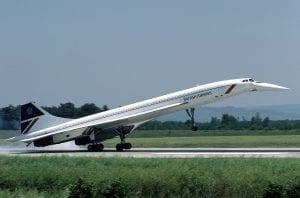 There was no in-flight entertainment onboard Concorde.
The fastest commercial transatlantic crossing ever was on February 7 1996: a British Airways Concorde flew from New York to London in an incredible two hours 52 minutes and 59 seconds!
Do you know any interesting or fun facts about Concorde that we've not mentioned?  Let us know in the comments section below!