14 Regal Facts about the Royal Family
The British royal family is one of the most fascinating dynasties in known history. While ancient royal history tends to be a little gorier and a bit juicier than in current times, the royals continue to be a fascinating source of news and tradition.
But how much do you actually know about the Queen and her famous brood? Here are 14 interesting facts about the royal family to help key you in:
Queen Elizabeth, or any monarch for that matter, will never travel on their own. The simple reason for this, of course, security. The Queen will generally have a staff of more than 30 people with her, ranging from bodyguards to press representatives.
The Queen has two birthdays, one 'official', and one being her actual birthday. Her real birthday falls on April 21st, while there is a full-scale celebration which takes place on June's second Saturday. It's here where most of the big celebrations take place.
There's a rule in place which states that royals should never sign autographs.
The British royal family is thought to be banned from playing the board game Monopoly – the reasons for this may vary!
Another rule the royals should ideally follow is that they are not allowed to touch, or be touched by, members of the public. Again, this is likely to be a security measure. The rule is flouted a fair amount, though often in cases where the people they touch are high-profile and are thoroughly vetted.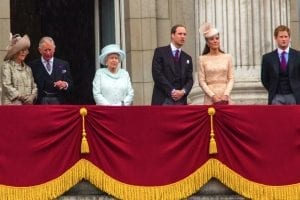 The Queen, unlike other British citizens, doesn't need a passport. Passports are issued in her name, and therefore, she does not have to display one herself if she wants to travel abroad. Other royals, however, need to possess their own passports for venturing to and from abroad.
While it's possible to become king or queen by marriage, it is impossible to become the reigning monarch by marrying into the British royal family. If the monarch spouse dies, the honour will then pass to the next of kin. For example, should Queen Elizabeth pass away before Prince Philip, the honour will pass to their eldest son, Prince Charles.
The Queen, reportedly, wears bright colours in public so that she is easy to spot. It is, again, perhaps a keen security measure – she is not just an avid fan of neon tints and shades!
There are staff who help the royals with menial tasks to a fairly bizarre point! It's thought that, for example, there are people in employ through the royals who squeeze toothpaste and iron shoelaces. The life of a royal really is a strange one!
Royals cannot refuse gifts. However, it lies with the reigning monarch to decide what happens to them in the long run. Therefore, the Queen is probably in charge of a pretty busy royal eBay account!
Santa Claus apparently makes a special exception for the British royals. That is, in the sense that the family tends to open their Christmas presents the day before everyone else! They often open their gifts on Christmas Eve, with the Queen traditionally giving her yearly speech to the nation the next day.
The Queen's gloves are interesting all on their own. She wears them constantly in public, yet they are probably not as expensive or as opulent as you might imagine. In fact, a pair of gloves for the monarch is likely to cost little over £100. What's more, she doesn't tend to buy new gloves – instead, she has them washed and repaired. That's frugal thinking!
The royals are frugal in general. It's not unheard of for royals to re-use outfits on several special occasions, rather than buy one or two outfits and never wear them again. What's more, it's thought that Charles and Diana were very keen to reduce food wastage during their marriage. It's thought that they often saved leftovers to ensure nothing went to waste.
Believe it or not, any royals hoping to get married will need more than a blessing from the Queen. They need to obtain a licence! That is, if they are under the age of 25, and are in line to the throne within the first six people.
Do you have any interesting or fun facts about the royal family that we've missed?  Share them here in the comments section below!