🇫🇲 18 Magnificent Facts about Micronesia
Increase your chances of being crowned the next pub quiz team winners by learning these 18 fun facts about Micronesia!
Federated States of Micronesia is made up of 607 islands located in the Pacific Ocean.
Because it's a group of islands it does not have any bordering countries, however its nearest neighbors are Guam to the North, Nauru and the Marshall Islands to the East, Australia and Papua New Guinea to the South and Philippines to the West.
The total land area of Federated States of Micronesia is only 271 square miles (702 square kilometers), however this is spread out over an incredible 1,003,866 square miles (2.6 million square kilometers) of ocean!
The coordinates for Federated States of Micronesia are 6.9167° N, 158.1833°
Federated States of Micronesia's population was 115,021 in 2020.
It has a tropical climate with heavy rainfall all year round and occasional typhoons. On the plus side, the temperature is consistently warm all year round!
The terrain here varies wildly from island to island, with some consisting of lovely low coral atolls to volcanic outcrops and high mountains with incredible views!
It's part of a UN Trust Territory and is under US administration.
The capital is Palikir and has a population of 6,647 (2010).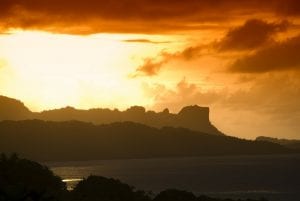 The average life span here is 67.88 years (2019).
Micronesia has no military forces as its defense is the responsibility of the USA.
The official language of Micronesia is English…
Although seven 'local' languages are also spoken in Micronesia, including Gilbertese, Chuukese, Marshallese, Pohnpeian, Kosraean, Ulithian and Carolinean.
The US Dollar is the official currency here.
Micronesia produces vegetables, fruit, coconuts, pigs, chicken and fish.
Its industry consists of tourism, fish processing, specialised agriculture and craft items made from wood, pearls and shells.
It also exports fish, fruit, nuts and garments.
To call your friends in this idyllic destination, you'll need the international dialling code, +691.
Do you know any fun facts about Micronesia?  Share them in the comments below!