14 Adventurous Facts about Amelia Earhart
Where would aviation be without Amelia Earhart? Not only was she instrumental in the history and progression of aviation in general, she paved the way for female pilots all over the world. To this day, she remains a fascinating figure – which is all the more reason why we're giving her a fact file to celebrate her life and work.
How much do you remember about Earhart's flights from history class? Her life and career are still worth studying – and to get you started, here are a few interesting facts about Amelia Earhart which might just surprise you.
Female pilots owe much to Earhart's work. She was a founding member of the Ninety Nines, which was a group that represented female pilots.
While Earhart was a celebrated aviator in her own right, her final days are just as fascinating. To this day, no one is quite sure what happened to the pilot – as she went missing over the Pacific Ocean in July 1937, with no body ever recovered. Where did Earhart go?
Earhart is remembered for her piloting skills, however, it's noted that she may not actually have been as skilled as others in her line – she was, instead, largely remembered for her incredible nerve under pressure. It's thought that Earhart relied more on instinct rather than technology, even as the planes she flew continued to evolve in sophistication.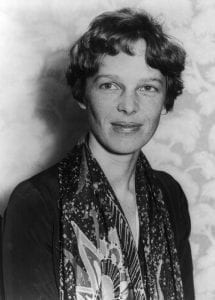 Earhart created her own fashion lines which retailed across the US. Specifically, women were able to sample her lines of pants, blouses and dresses across Marshall Field and Macy stores. Earhart was not only skilled in flying, but also in sewing – she provided her own samples towards the line during her downtime.
Earhart was the first woman to ever take on a solo flight across the Atlantic Ocean. This trip would take her from Newfoundland to Northern Ireland and took around 15 hours to complete. It was actually arranged as a secret feat, as an attempt to replicate an incredible flight made by Charles Lindbergh.
This record flight was not as simple as many may have suggested. It's thought that Earhart was at the mercy of poor weather conditions as well as a variety of difficulties. In fact, she was originally planning to land in Paris, France.
There are, sadly, only a few female pilots who have ever earned the Air Force Distinguished Flying Cross. Earhart paved the way as being the very first female pilot to earn the honor.
Earhart wrote about her experiences, including those relating to her Atlantic flight, in her popular book 'The Fun of It'
She sold her first plane to pay for a 1922 convertible, which she lovingly referred to as 'The Yellow Peril'.
Earhart's boundary-breaking flights would not have happened were it not for Neta Snook, who herself was known for breaking down gender walls. She was the first woman to run an airfield and an associated aviation company – and was responsible for training Earhart in the early days.
It was Earhart's passion for adventure which, sadly, resulted in her mysterious disappearance. She was thought to be in the process of becoming the first ever pilot to circumnavigate the equator.
There are many theories as to what actually happened to Earhart. One of them, suggested by Mike Campbell, is that she was actually captured by Japanese forces in the Marshall Islands. However, there remains no solid evidence that this was ever the case – though it remains a solid theory as to what happened to the pilot and Fred Noonan, who was acting as her navigator on that fateful day.
Generally, historians believe that Earhart and Noonan crashed and sunk off-course – resulting in the wreckage never being found. However, as with all mysterious disappearances, a number of theories have sprung forward – but oddly enough, no evidence has ever lined up to suggest more than a simple disappearance.
Earhart had several jobs, too, during her lifetime. As well as being an aviator, she also worked as a social worker and a teacher and gave a number of speeches on her life and work. It's safe to say that there was probably never a period when she wasn't busy.
Do you know any fun facts about Amelia Earhart?  Share them in the comments below!
This page was last modified on November 18, 2021. Suggest an edit