🇬🇧 10 Massive Facts about Manchester
Manchester is inarguably one of the most famous cities England has to offer. Based in the 'heart' of the UK, it's probably best-known for producing several big names in music, and for its world-beating soccer teams. But how much do you really know about the city? Here are some fun facts about Manchester that might just surprise you.
1. It's one of England's biggest cities.
With a municipal population of more than 2.7 million across the city and wider urban areas, Manchester is only second to London in sheer population size across England. It's usually vying with Birmingham for second place, with Leeds following just behind.
2. It's in the heart of the Kingdom.
Manchester is situated right in the heart of England. That is one of the reasons why it is also commonly known as The Gateway to the North! It also owes its name to the fact that it plays host to the third-largest airport in all of England.
3. Mamucium?
Before becoming Manchester, the city was commonly known as Mamucium. Its original name was Roman, but it is thought to be a translation of the Celtic name – roughly translated from 'breast-like hill'!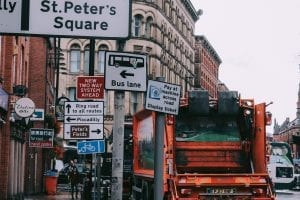 4. Lights, camera, Manchester!
Chances are, you've seen Manchester on the big or small screen at some point or other. In recent years, TV shows like The Crown and Peaky Blinders have been filmed here, as have comic book movies such as Captain America and Morbius. It's also home to Coronation Street, perhaps the UK's most iconic soap opera.
5. Better start watching the reruns!
Coronation Street is a world-record holder! It is the longest-running/oldest television soap opera in history, with its first episode having aired back in 1960 on ITV. This means that it has aired over 10,000 episodes – that's a lot of cobbles to catch up on!
6. Manchester is soccer heaven.
Manchester plays host to two of the biggest soccer teams on the planet – Manchester United and Manchester City – both of which have made huge names for themselves in the Champions League. But that's not all the soccer action – as Greater Manchester is also the home of clubs such as Rochdale, Bolton Wanderers, Wigan Athletic, Stockport County, and Salford City – all of whom are still in the main English 'football league' divisions as of the time of writing.
7. Women's rights took charge here.
It was in Manchester that Emmeline Pankhurst first created the Women's Social and Political Union. Therefore, we definitely owe a lot to this city when it comes to women's rights! It's celebrated as the home of the Suffragette movement.
8. What's a Manc?
People from Manchester refer to themselves as Mancs, or Mancunians – and they're proud of the fact!
9. Manchester changed UK music for good.
Manchester was responsible for a massive music boom in the 80s and 90s, having brought the likes of Oasis, The Smiths and Morrissey, Joy Division (and later New Order), The Charlatans and The Chemical Brothers to the charts. On the other end of the pop scale, Manchester is also the home ground of Take That and Simply Red, both massive chart-toppers in the 90s!
10. It's a city that's seriously diverse.
Manchester is known for being a very diverse city. While English is still the most spoken language in the city, some of the commonly used languages in the area include Panjabi, Urdu, Polish, and Bengali!
FAQs about Manchester
What is Manchester famous for?
Manchester is famous for its great music scene, nightlife, diversity, and fascinating history! Did you know that Manchester was the first-ever industrialized city in the world? Its mills, warehouses, and working-class citizens are a staple of the city, and much of the industrial period can still be seen here today - from the famous ship canal outwards.
Is Manchester nice to live in?
Manchester is famously popular with its residents and short-stay tourists. It's generally popular thanks to its huge waves of job opportunities and its fantastic nightlife.
Is it expensive to live in Manchester?
Living in Manchester as a single person is likely to cost you over $2,500 per month. For a family of around four people, that's likely to be closer to $5,000. It can be pricey, but there are well-paid jobs across the city to help you manage the bills!
Do you know any interesting facts about Manchester? Share them in the comments below!
Sources:
This page was last modified on November 28, 2022. Suggest an edit