16 Newsworthy Facts about Nigeria
Think you know all there is to know about the countries of Africa? Take a look at these fun facts about Nigeria and test your knowledge!
1. Where is Nigeria?
Nigeria is a beautiful and culturally rich country in West Africa.
It is bordered by Niger to the north, Chad to the northeast, Cameroon to the east and Benin to the west. It also has a coastline along the Gulf of Guinea to the south.
2. How to find Nigeria by compass.
If you're looking for a wonderful safari adventure, head for the co-ordinates of 8.0000° N, 10.0000° E to find yourself in Nigeria!
3. It's a lovely, varied landscape.
The terrain here features vast southern lowlands, whilst the southeast boasts beautiful mountains, the north is covered mostly by plains and the center of this wonderful country comprises hills and plateaus.
4. Nigeria is bigger than you think!
The total land area of Nigeria is 356,669 square miles (923,768 square kilometers)…that's more than three times the size of Italy!
5. There are many, MANY people here, too.
Nigeria's population was 201 million in 2019……that's also around three times the population of Italy! That makes it the most populous country in Africa!
6. What's the capital of Nigeria?
The capital is Abuja; it covers an area of 275 square miles (713 square kilometers) and had a population of 3,277,740 in 2020.
7. Temperatures here can and will vary.
The climate of Nigeria varies throughout this vast country, with the south experiencing an equatorial climate, moving to tropical in the center and arid in the north.
8. There's an enormous bridge.
The Third Mainland Bridge, connecting Lagos to the mainland, is one of the longest bridges in Africa!
9. Nigeria is replete with wildlife.
There are many species of wildlife endemic to Nigeria, including the Sclater's Guenon (a very cute monkey) and the Ibadan Marimba (a beautiful small black and red bird).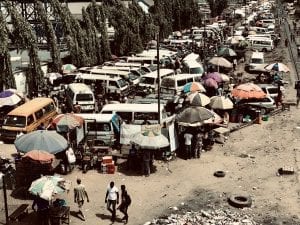 Did you know that Niger is actually a former colony of France? It's been independent for some time now, however!
5. Get dialing!
If you want to get in touch with friends and family in Niger, you're going to need to use the international dialing code of +227. Add it to the front of your number, and you can pretty much call Niger from anywhere!
6. Grab your compass and head to Africa.
Niger's coordinates are 17.6078 degrees north, 8.0817 degrees east. Worth remembering if you need to take a plane here – as you certainly can't get to Niger by boat!
7. What's the capital of Niger?
Niger's capital is a city called Niamey. Niamey measures around 239 square km large, equivalent to 92.4 square miles.
8. Niger is surprisingly massive.
Niger itself is actually one of the biggest countries on the African continent – it's a staggering 1.267 million square km large, which equates to just more than 489,000 square miles.
9. Millions of people call Niger home.
Niger's also got a large population – back in 2020, around 24.2 million people were recorded as living here. Niamey has a population of just over a million people – so, one 25th of the whole country lives in the capital.
10. The land is extremely arid and dry.
Niger is a very dry and sandy country, normally pretty flat and rolling towards the southern end, and hilly towards the north.
11. However, there's plenty that grows out here!
Some of the main exports from Niger include onions and cowpeas! However, the country is also known for exporting livestock, too – there's a big farming industry.
12. What does Niger trade in?
That said, the industry doesn't stop there. Believe it or not, Niger does a massive trade in Uranium – mainly thanks to its mines rich in the resources. However, the country also does a great trade in cement and textiles.
13. It's a big cotton reserve, too!
Niger's local crops – beyond the cowpeas and onions – includes millet and cotton, the latter of which is naturally very lucrative!
14. Life expectancy isn't the longest.
Sadly, people living in Niger are unlikely to live longer than 63 years of age – the average lifespan is very short compared to western countries.
15. Now that's preservation!
There's a 7.7 million hectare expanse of land in Niger that's protected thanks to the fact it's a major habitat for local animals. The land in question belongs to the Air and Tenere National Nature Reserve.
16. Set out on safari!
It's at the nature reserve where you'll be able to watch gloriously galloping gazelles in their element – a wonderful sight to see!
17. Break out the phrasebook!
People in Niger traditionally speak French, mainly thanks to colonial links going back decades. However, people here are also known to speak Djerma.
18. Stay hydrated!
Did you know, too – that Niger is considered one of the hottest territories on the planet? It actually has the honor of claiming the nickname of 'the world's frying pan'! Hot stuff indeed!
FAQs About Niger
How do you pronounce 'Niger'?
It's actually pronounced nee-zhurr, not nye-zhurr – the emphasis is on the French!
Is it safe to visit Niger?
On the whole, Niger isn't considered a safe tourist destination – unfortunately, crime is high and it's a politically fraught country at present.
Can I drink alcohol in Niger?
It's not advisable – as it tends to be very frowned-upon – so is eating in the street, too!