15 Cultural Facts about Chad
Do you have friends or family that live in this incredible country? Impress them with your local knowledge with these fun facts about Chad!
1. Where is Chad, exactly?
Chad is a large landlocked country in Central Africa.
It is bordered by Libya to the north, Sudan to the east, the Central African Republic to the south, Cameroon and Nigeria to the southwest and Niger to the west.
2. Got a compass to hand?
Join your friends and family on safari by heading for the coordinates 12.1000° N, 16.0333° E.
3. It's great for explorers.
The terrain here is a wonderful mix of desert in the north, mountains in the northwest, broad arid plains in the center and lowlands in the south – lots to explore!
4. It's also absolutely huge.
The total land area of Chad is 495,755 square miles (1,284,000 square kilometers)……that's slightly larger than Spain and France combined!
5. It's very sparse.
Chad's population was 15.48 million in 2018…that's around 1/4 of the Spanish population!
6. Don't call them Chads!
Ever wondered what to call the residents of Chad? They're known as Chadians!
7. What's the capital of Chad?
The capital is N'Djamena; it covers an area of 39 square miles (100 square kilometers) and had a population of 1.26 million in 2015.
8. Dry yet tropical north to south!
Chadians enjoy a tropical climate in the south and a desert climate in the north.
7. It's a wildlife paradise.
Chad is home to a wide variety of wildlife including lions, buffalo, elephants, giraffes, antelope, hippopotami, rhinoceroses, leopards, cheetahs, snakes and hyenas!
8. It's a multilingual country.
French and Arabic are the official languages of Chad, however, there are more than 120 different local languages and dialects spoken here, too!
9. Want to change your money up?
CFA Franc is the official currency here.
10. Better put in the elbow grease!
It is customary for future Chadian husbands to work for their father-in-law for 3 years. It is also common for him to make straw mats and build a hut for his mother-in-law to shade her from the Sun.
11. There's worse things you could drink!
Apparently, Donkey's milk is used here to cure whooping cough!
12. Don't make eye contact!
In Chad it is deemed rude to make eye contact whilst talking – if you do, the other person may think you are angry with them!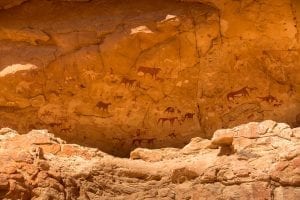 13. Might be better to just wash your hands!
If your hands are dirty you must offer your wrist when you meet someone. If their hands are also dirty you will both offer wrists and perform a 'wrist-shake', rather than handshake… yes, we tried it in the office and it's harder than you'd think!
14. Life expectancy is sadly low.
The average life span here is 53.71 years (2017).
15. What does Chad produce?
Chad grows cotton, millet, peanuts and sorghum; it also rears cattle.
Its industry consists of oil, cotton textiles, beer brewing, meat packing and sodium carbonate.
Chad exports cattle, cotton and gum arabic.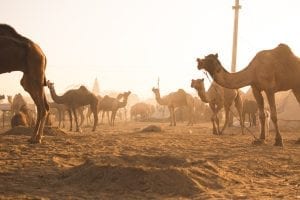 FAQs about Chad
Is alcohol legal in Chad?
While you can buy alcohol in Chad from the age of 18, it is not recommended to drink in public.
Is Chad safe for foreigners to visit?
While there are areas of Chad that are safer than others, it is wise to stay as cautious as you can - as violent crime has grown here over the past few years.
Is Chad an expensive country?
In some ways, yes - there are high prices here as a result of their economy being dependent on oil.
Do you know any fun facts about Chad?  Share them in the comments below!