The Royal Albert Hall is a London institution!  Still open to this day for thousands of shows and events, it's one of the most opulent stadiums of its kind.  It also has an amazing backstory!  Here are some of the most fascinating facts available to pull together about the Hall, and why it's still worth booking tickets to this day.
The Royal Albert Hall plays host to 5,200 people at any one time, making it one of London's biggest venue landmarks.
Queen Victoria oversaw its grand opening! The Hall's doors swung open in 1871, and since then, it has played host to thousands of different shows and acts.
In fact, over 350 performances take place here each year – that's nearly one for each day on the calendar.
The Hall withstood bombing attempts in both World Wars, despite the fact that its eye-catching design from above was a clear marker for attackers.
However, there are parts of the Hall which have fallen over the years. For example, the Queen's Hall took its final bow in 1941.
The main organ in the Hall weighs around 150 tonnes and has just fewer than 10,000 different pipes.
The organ cost around £1.5 million to fully restore in the early 00s. However, it only cost £8,000 to build in the 1870s!  In modern money, that would be somewhere around £1 million.  Therefore, money well spent!
However, it's only the second-largest organ of its kind in the UK. There's a bigger instrument in Liverpool Cathedral, which snatched the record at over 10,200 pipes in 2007.
The Hall's name is a tribute to Prince Albert, husband of Queen Victoria. Its original name was the 'Central Hall of Arts and Sciences'.
The Hall is a listed building at Grade I.
It's famous for hosting the BBC Proms, a classical music festival that's had a home here since 1941.
The Hall has an 'artificial lake'! Two tanks of water provide 8,000 gallons for 'flooded' performances.  They are under the main floor itself, which is why you never see them out in the open!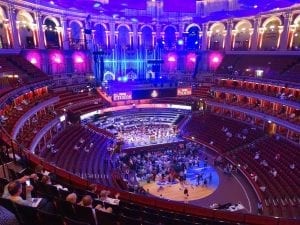 Architects built the domed roof in Manchester on a test run – before dismantling it and transporting it to London.
In fact, the roof is a record-breaker. It was once the largest glass dome without support in the world!  It was also blacked out during the wars for protection.
Believe it or not, the first-ever sumo wrestling tournament didn't take place in Japan, but in the Royal Albert Hall! The ancient sport's maiden competition took place here in 1991.
It was also the host of a famous boxing match between infamous London gangsters Ronnie and Reggie Kray in 1951.
Hall staff initially 'banned' pop concerts in 1972 following a spate of vandalism and public disorder the year before.Thankfully, things have changed in a big way since then!
Do you know any fun or interesting facts about the Royal Albert Hall that we've not mentioned?  Share them with us in the comments section below!