16 Unbelievable Facts about Uruguay
Uruguay is a beautiful country situated in south-eastern South America. It has borders with Brazil and Argentina – and with lush vegetation and a beautiful coastline, the country has a lot to be proud of! Here are some fun facts about Uruguay.
1. Keep on singing…
Uruguay breaks many records. Among them is a world record for having the longest national anthem! Containing 105 bars, it lasts a whopping six minutes! Sometimes fewer bars are played/sung to speed things up.
2. More cattle than people?
Uruguay's four-legged population is far greater than its two-legged population! In fact, there are 75% more cattle and sheep than humans. In 2020, the human population was 3.474 million.
3. Descendants from a darker time.
Recently, it has been claimed up to 10% of the Uruguayan population is descended from slaves.
4. Change up that money!
The currency of Uruguay is the Uruguayan Peso.
5. It's a soccer nation.
The most popular sport in Uruguay is soccer. Club Nacional and Atletico Penarol are the most popular teams.
6. World Cup fans know this only too well!
Uruguay has a special place in world soccer legend – they were the first hosts, and the first winners, of the FIFA World Cup.
7. It's a gorgeous stretch.
The coastline of Uruguay stretches 660 kilometers and faces the Atlantic.
8. Education is a big deal in Uruguay.
Of all the South American countries, Uruguay proudly ranks highest for literacy.
Uruguay was the first South American country to offer free laptops and free Wi-Fi connections for school children. Education is free in Uruguay, too!
9. Soccer prowess extends to the Olympics, too.
Uruguay are big winners in soccer at the Olympic Games – taking home the gold medals in 1924 and 1928.
10. What do people speak in Uruguay?
The main language spoken in Uruguay is Spanish.
11. Want to fly away?
The main international airport of Uruguay is found at the country's capital city of Montevideo. It opened in 1947.
12. Water is normally clean and fresh out here.
Uruguay stands up well for looking after its communities. A record-breaker amongst other South American countries, Uruguay is providing clean water for approximately 95% of its population.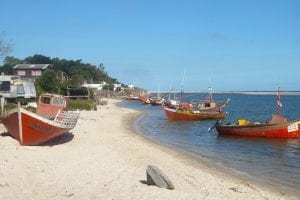 13. It's a relatively small nation.
The surface area of Uruguay is 176,215 square kilometers. This equates to roughly the same size as Oklahoma!
14. Does it ever snow in Uruguay?
The temperature seldom drops to zero in Uruguay and the sight of snow is extremely rare. Winters can be chilly and that's mainly due to cold winds known as 'Pampero', which can affect temperatures between May to September. In general, the climate is mild.
15. Women's rights were recently extended.
In 2013, the women of Uruguay were given the right to orchestrate divorce. This was deemed a major step forward for women's rights!
16. How do you know where to deliver?
There are no numbered houses in Uruguay! Properties are named, not numbered.
FAQs about Uruguay
What are the main exports of Uruguay?
The main exports of Uruguay include beef, dairy products, wood, cellulose, soy beans, wheat and rice. In 2020, Uruguay raised around $13.55 billion dollars from exports alone.
Is Uruguay a safe place to visit?
Of all South American countries, Uruguay is considered a relatively safe place to visit. Like most capital cities, Montevideo has a higher crime rate than smaller rural towns and a larger police force.
Do people speak English in Uruguay?
No - oddly enough, it isn't widely spoken!
Do you know any fun facts about Uruguay?  Share them in the comments below!
This page was last modified on August 2, 2023. Suggest an edit