11 Gorgeous Facts about Georgia State
If you're a big fan of peaches, wine, and fascinating architecture, there's plenty to see in Georgia, one of the most memorable states in the south of the US. It's one of the oldest settlements in the country, and while it's played a pivotal role in politics over the past few years, there's much more to this sensational state's history than meets the eye. Let's take a look at some fun facts about Georgia State you'll want to remember.
1. Georgia is a southeastern state.
Georgia's spot in the southeast of the US boasts incredible landscapes covering mountain ranges and plains to beautiful coastal views. It's one of the most popular states for tourists who want to explore the beauty of America's backyard.
2. Atlanta is its capital.
Atlanta, the state capital of Georgia, is also the state's largest city! It is known for its business links, recent Olympic history, and for being home to multiple Fortune 500 companies!
3. Georgia is known as the Peach State.
Every state has a nickname, and Georgia's is fittingly peachy, thanks to its reputation for producing tons of delicious peaches year after year – it's one of the leading producers countrywide. You may also have heard Georgia being referred to as the "Empire State of the South."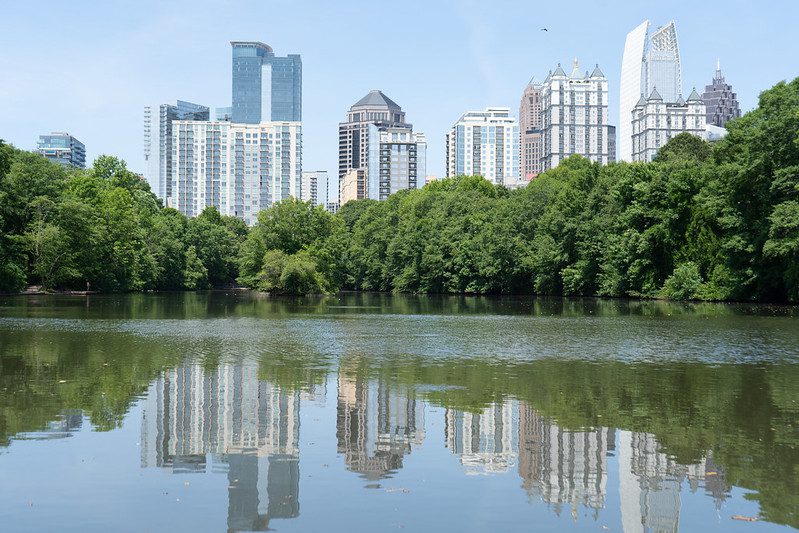 4. Georgia has multiple important state symbols.
As is also the case with all states in the US, Georgia is well-known for its symbols! These include the state motto, which is "Wisdom, Justice, and Moderation," and the state bird, the brown thrasher.
5. Georgia's been at the forefront of colonization and civil rights milestones.
Georgia is famous for being one of the original 13 colonies of the US. It is also known for its role in the Civil Rights Movement, as it is where Dr. Martin Luther King Jr. was born and raised. He was specifically born and raised in the state's capital, Atlanta.
6. Georgia boasts mountains, swampland, and a stunning coast.
Georgia is known for its beautiful natural attractions – including the famous Appalachian Mountains in the north, the Okefenokee Swamp in the south, and the scenic Georgia coastline along the Atlantic Ocean! These landscapes bring people from all over the country and the world to see them.
7. It is home to the University of Georgia.
In Athens, you will find the University of Georgia. It is one of the oldest public universities in the United States and a major research institution.
8. It is also home to the Atlanta Braves.
Major League Baseball mainstays the Atlanta Braves are the pride of Georgian baseball. The team is also the oldest sports franchise continuously running in the States!
9. Georgia is home to Hollywood's finest.
Some of the most famous people to hail from Georgia include Ray Charles, Julia Roberts, Spike Lee, and Dakota and Elle Fanning. However, there's only ever been one US President born in Georgia state thus far – Jimmy Carter, who served between 1977 and 1981, preceding Ronald Reagan.
10. Georgia has a subtropical climate.
Georgia generally has a mild, subtropical climate. This climate contributes to making it a popular destination for outdoor activities year-round.
11. It is the birthplace of Coca-Cola!
Georgia is famously the home of the popular drink Coca-Cola! It was invented in Atlanta by pharmacist John Pemberton in 1886. Little did Pemberton know that his concoction would go on to be more a sweet treat than a medicinal must!
FAQs about Georgia State
Is Georgia State a good place to live?
Georgia is considered one of the best places to live in the United States of America, particularly for retired people. It is a relatively affordable state with generally warm weather all year round, making it comfortable for most to acclimatize to.
What is Georgia State most known for?
Georgia is particularly well-known for its peach farming! However, it is also known for producing peanuts, pecans, and onions (specifically Vidalia onions). Therefore, one could say it is best known for its agriculture and produce.
What cities are in Georgia State?
There are many well-known cities in Georgia. These include Atlanta, Athens, Savannah, Augusta, Macon, Valdosta, and more!
Further reading
https://factcity.com/tag/USA/
https://www.visittheusa.co.uk/state/georgia
https://www.visitusa.org.uk/statesanddestinations/statesanddestinations.aspx?pname=Georgia&destinationid=105
Do you know any interesting facts about Georgia State? Share them in the comments below!
This page was last modified on September 27, 2023. Suggest an edit