30 Incredible Facts about India
India, a magical mixture of diverse experiences! From the snow-covered Himalayan heights in the north, the country stretches southwards and at the Tropic of Cancer, narrows down into the Indian Ocean among the Bay of Bengal and the Arabian Sea.India is one of the most popular tourist destinations in the world with a rich heritage and numerous attractions. Why are the visitors so amazed by the diverse nuances of India's cuisine, faith, art, craft, music, nature, land, tribes, and history? The answer lies in these interesting facts about India, which offer an insight into the country's fascinating fuse of the old and the new…
Genesis
1. Age of dinosaurs
More than 100 million years ago when dinosaurs roamed the Earth, most of what is India today was part of one big continent which it had broken free from. This ancient supercontinent, Gondwanaland, was moving slowly northwards.
2. The collision with Asia
Roughly 50 million years ago, after dinosaurs had become extinct, the Indian continental plate collided with Asia, which led to the buckling of the coastal area of both continents and subsequently creating the world's youngest and highest mountain range, the magnificent Himalayas.
Historical facts
3. Indus civilization
Archaeological evidence shows that a very sophisticated urban culture, the Indus civilization, was dominant in the north-western part of the subcontinent from about 2600 to 2000 BCE. Since then India was virtually a self-contained political and cultural arena.
4. Vasco da Gama
India became exposed to major external influences arriving by sea after the arrival of the Portuguese navigator Vasco da Gama in 1498 and the later creation of European naval supremacy in the region, a process that climaxed in the weakening of the ruling Muslim elite, and led to the incorporation of the subcontinent within the British Empire.
5. British rule
The direct administration by the British, which began in 1858, had a major influence on the political and economic unification of the subcontinent. The British rule ended in 1947 when the subcontinent was divided along religious lines into India with a majority of Hindus and Pakistan with a majority of Muslims. Still, many British institutions remained and the English language is widely spoken.
6. Independence
On the 15th of August, 1947, India was liberated from British Colonial rule and welcomed its independence. The Indian Independence Act was passed in 1947 and created two new independent territories India and Pakistan.
7. Official languages
After becoming independent India remained within the Commonwealth, Hindi became the official language and many other local languages gained official status. As one of the most ethnically diverse countries in the world India has numerous castes and tribes, as well as more than a dozen major and hundreds of minor linguistic groups from several unrelated language families. Besides the rich palette of languages Hindi and English are the ones used in official capacity.
Area, population, and languages
8. The 7th largest country by land area
India is the 7th largest country in the world, with a total area of 3,287,263 km2 or 1,269,219 mi2. From north to south the country measures 3,214 km or 1,997 mi, and from east, to west there are 2,933 km or 1,822 mi. The land's border is 15,200 km or 9,445 mi and the coastline is a staggering 7,516.6 km or 4,671 mi.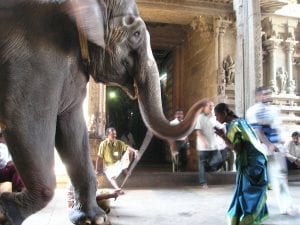 9. India's mainland and neighbours
The mainland is comprised of four distinct regions, the great mountain zone, the Indo-Gangetic Plain, the desert region, and the Southern Peninsula. In the west India borders with Pakistan, to the north and east with Bangladesh, Bhutan, China, Myanmar, and Nepal, and in the south with Sri Lanka. Quite a busy neighbourhood!
10. Population
Based on the Worldometer elaboration of the newest UN's data, the current population of India is 1,388,456,735 as of February, 2021. India's population is equivalent to 17.7% of the total world population ranking it the second-largest population in the world! Considering these facts, India's population density is 464 per km2 or 1,202 people per mi2.
11. Future estimates regarding population
India will become the most populous country in the world in just 10 years, according to the UN's estimates, when it will reach approximately 1.45 billion inhabitants! This population growth is likely to reach its peak in 2060, where it will be about 1.6 billion!
12. More language facts
Though the big six languages, Hindi, Bengali, Telugu, Marathi, Tamil, and Urdu are spoken by more than 50 million people, India has two official languages, Hindi and English. It has been implied that India has a greater linguistic diversity than any other country. In fact, the 1961 census of India listed 1,652 languages, although a few of these have died out since then.
Social facts
13. New Delhi
A well-known fact is that the capital of India is New Delhi. Maybe lesser-known is that according to the UN, Delhi is now the second-largest urban agglomeration in the world, while Mumbai is ranked seventh and Calcutta tenth.
14. Population
The population of Delhi and its proximate urban surrounding area is now over 22.65 million only exceeded by Tokyo. Delhi's 2021 population is now projected at 31,181,376. In 1950, Delhi's population was 1,369,369. Also since 2015, the city has grown by 890,440 which represents an annual change of 2.94%.
15. Water supply
Nearly a quarter of Delhi's homes don't have a regular water supply.  Especially in Delhi's slums, the water is scarce, so washing your hands is a luxury not everyone can afford. What's even more difficult is that many settlements are not allowed to use public piped water, so they have to manage with water from tankers.
Economy
16. Agriculture
One of the most important economic sectors of India is agriculture. The agricultural branch is also the leading source of livelihood. Mango, the "food of the Gods" and India's national fruit is grown in almost all parts of the country and India is the world's main producer and consumer of mango. This sweet fruit is truly fruitful, it has several hundred varieties!
17. Crops
Besides food crops, which account for more than three-fifths of the area under agriculture, most Indian farms cultivate little. A leader among the grains is rice, the crop of choice in almost all areas. Wheat as second is grown mainly on the fertile soils of northern and north-western India. Other important cereals, in inclining order of sown acreage, are sorghum, pearl millet, corn, and finger millet. Finally, chickpea is the most important food crop and main source of protein for most Indians.
Interesting Indian facts
18. Megacities
A megacity is a city with a total population above ten million people, and believe it or not India has got not one, not two but three of the world's top ten megacities! New Delhi, Mumbai, and Kolkata all with a population of way over 10 million have rightfully earned their megacity title! It's expected Tokyo to remain the world's largest urban agglomeration in 2030, with Delhi and Shanghai maintaining their second and third positions, respectively.
19. National anthem
India's national anthem is Tagore's song called "Jana Gana Mana".  The arrangement is founded on the words and music of the first stanza of the late poet Rabindranath Tagore's song. The first stanza of the song originally composed as Bharoto Bhagyo Bidhata was accepted by the Constituent Assembly of India as the National Anthem on the 24th of January, 1950.
20. National animal
What symbolises India's wealth of wildlife? That would, of course be the national animal of India, the Tiger. The last census in 2014 counted 2,226 tigers. Thankfully this population is growing has recently increased to 2,967 tigers.
21. National flower
Lotus or Nelumbo Nucifera Gaertn is the National Flower of India. The Lotus has a special place reserved in the art and mythology of ancient India and since ancient times it has been an auspicious symbol of Indian culture.
22. National tree
The Indian fig tree, also known as the Banyan is the country's national tree.  What's interesting about this tree is that the branches that root themselves like new trees over a large area. This huge tree boasts the widest-reaching roots of all known trees!
23. Seasons in India
Four seasons are recognized by the India Meteorological Department, cold weather, hot weather, rainy season, and the season of the retreating south-west monsoon.
24. Busy roads
Rather obviously, due to its dangerous and super busy roads, India has one of the worst road casualty rates in the world – there are more road deaths here than any other country in the world! So, be careful on your next trip to India!
25. Breaking the record
Interestingly, people in India love breaking records! The Limca and the Indian Book of Records contain oddities such as the longest garland made from cakes of cattle dung, which reached 1.2 miles (2km), a record-breaking 10 hours of performing yoga on horseback, and a record for lighting electric bulbs by passing a wire through one's nose and out of one's mouth, using 30 sixty-watt bulbs – each to their own!
Social customs
26. Family
The most important social component for almost all Indians is the family. In fact, there is a strong preference for extended families, involving two or more married couples, often of more than a sole generation, who share finances and a common kitchen.
27. Marriage
Marriage is sacred and divorces are rare in India. Practically every marriage produces children and what's even more intriguing is the fact that almost all marriages are arranged by family elders based on caste, "blood relation", economic status, education (if any), and astrology. Traditionally the bride moves to her husband's house. Luckily nowadays "love marriages" are increasingly common in cities! Two thumbs up for love!
The best of everything
28. A mesmerizing coast
Surrounded by water, India has amazing beaches that offer everything, from solitude to parties. The best beaches in India can be found on the west coast, with Goa being the most famous one. Also, if you want to get away from the tourist trail India has other beaches for your enjoyment.
29. Best certified beaches!
When a beach is eco-friendly, clean, and safe it's awarded the Blue Flag certification. In October 2020, these eight Indian beaches were awarded this prestige certification by the Foundation for Environmental Education in Denmark:
Puri Golden Beach in Odisha
Shivrajpur in Gujarat
Ghoghla in Diu
Kasarkod and Padubidri in Karnataka
Kappad in Kerala
Rushikonda in Andhra Pradesh
Radhanagar in Andaman and Nicobar Islands
30. Best tourist attractions!
Agra stands atop of this list! And duly so, as it homes the world's most beautiful monument, the Taj Mahal! Love is the foundation of this fascinating ivory-white marble structure built by the Mughal emperor Shah Jahan as a mausoleum for his beloved wife Mumtaz Mahal. And while you're there don't miss the sunset and sunrise view of the Taj Mahal! It's a must-see!
---
Do you know any interesting or fun facts about India?  Share them in the comments below!
Are you fascinated with the Indian Subcontinent? Check out these facts about Indian food