10 Funky Facts about New Orleans
New Orleans is one of the most famous cities in the world thanks to its rich, bold culture, incredible cuisine, and fantastic festivals. So, let's get to know this great town a little better with these ten fun facts about New Orleans!
1. Make way for Mardi Gras!
Now one of the most famous celebrations in the world, Mardi Gras is a staple of New Orleans. It is believed that the traditions began back in the 1800s, with the first-ever parade having been held in 1857!
2. No mask, no entry.
When it comes to the Mardi Gras parade, there is one very strict rule in place – everyone must wear a mask. No, not a COVID mask – a festival mask! By law, all people on a float in the Mardi Gras parade have to wear masks to maintain tradition and keep the element of mystery encompassed in the festival. Let's face it, that's a pretty cool law!
3. Raise the flag!
You may have heard of the great Pirate Jean Latiffe, as he is a legendary figure in New Orleans. But, did you know that he fought beside Andrew Jackson in 1814 and 1815 to help protect the area from the British? He even offered up other pirates to Jackson, as support for his dwindling number of troops.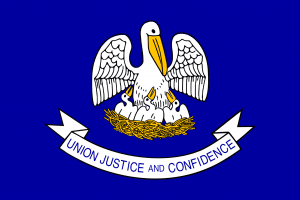 Louisiana State Flag
4. D'ya like jazz?
When you think of New Orleans, chances are that you think of jazz music, and the city its one of the birthplaces of the fantastic musical genre. So, if you're ever looking for a place to truly appreciate jazz in New Orleans, head over to the Preservation Hall. It is New Orleans' oldest jazz bar, having opened back in 1961, and is still kicking to this day!
5. Hurricane Katrina was truly devastating.
Back in 2005, Hurricane Katrina devastated New Orleans. In fact, it was the most expensive natural disaster that the US had ever seen – it cost around $172.5 billion in repairs after the hurricane had passed.
6. A spooky city!
If you are interested in anything spooky, then New Orleans is definitely the city for you! Situated in the French Quarter, a famous area of New Orleans, you will find plenty of haunted buildings. One of the most famous ones being LaLaurie mansion. It was the home of a cruel slave master who used to torture and kill her slaves. People believe that the home is still haunted by the owner and her slaves.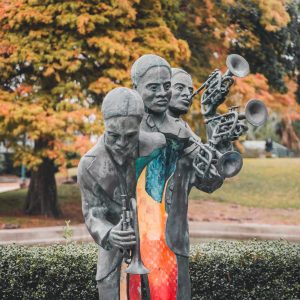 7. City of the dead?
In keeping with its spooky and mysterious theme, New Orleans is home to many famous cemeteries. One thing that sets the cemeteries apart is their above-ground tombs. Shaped like small houses, these many tombs have led the NOLA (New Orleans Louisiana) cemeteries to be known as Cities of the Dead.
The tombs are often above ground simply because there is something else underneath them! Don't worry – it's not as spooky as you might think. It's simply because the water table of the city is high, it is tricky to dig down into the earth.
8. En guarde!
City Park is now a famous spot in New Orleans for relaxing and taking the odd walk. However, back in the day, it was used for dueling. In the 1800s, if a duel was set in New Orleans, the chances are that it would have been in City Park!
9. Almost there!
As we are nearly at the end of this list, it's about time that we see some Princess and the Frog facts for the Disney lovers out there! Did you know that Princess Tiana, the main character in the movie, was actually inspired by real life entrepreneur and gumbo genius, Leah Chase? She is the owner of the famous Dooky Chase restaurant down in New Orleans.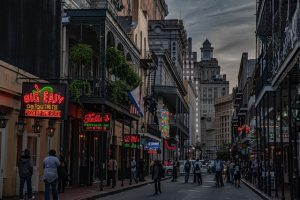 10. The queen's tomb!
Finally, let's end on a spooky and mysterious note by talking about the Voodoo Queen herself, Marie Laveau. Her tomb can be found in the city and fans go every year to visit her. Some even say that she can be seen walking around her tomb sometimes, making the cemetery a go-to pilgrimage for lovers of all-things-spooky!
FAQs about New Orleans
When and where was jazz created?
The jazz music movement started in the late 19th and early 20th centuries, in New Orleans.
What is New Orleans' most famous food?
New Orleans is famous for all kinds of foods such as gumbo, jambalaya, beignets, king cakes, and more!
Do you know any fun facts about New Orleans? Share them in the comments below!
Furter reading:
https://factcity.com/tag/usa/
https://www.neworleans.com/
https://nola.gov/
This page was last modified on July 26, 2023. Suggest an edit