14 Nifty Facts about New Orleans
New Orleans is the largest city in the state of Louisiana and is one of the biggest ports in the United States. It is famous all around the world for its unique and distinct style of architecture. Here are some interesting facts about New Orleans.
New Orleans was the place where Voodoo was initially introduced in the United States. Marie Laveau, one of the most prominent figures of New Orleans, performed many exorcisms and rituals. She was widely known as the Voodoo Queen back in the 1800s.
Jean Baptiste Le Moyne was the founder of New Orleans back in 1718. The community was just a trading camp on the east bank of the Mississippi River at first. However, the city was later organised into a fortified community, which exists even today as the French Quarter.
Back in the 1790s, New Orleans was where the first opera of the United States of America was performed.
New Orleans was initially built as a rectangular block (known as the French quarter) as people believed New Orleans was safe from hurricanes.
Famous personalities such as Louis Armstrong, Truman Capote, Reese Whitherspoon and Ellen DeGeneres were all born in the city of New Orleans.
Given the high water table in New Orleans, the tombs are located above the ground, but thankfully still in cemeteries!
One of the most infamous people in the U.S., Lee Harvey Oswald, was born in New Orleans in 1939. He assassinated then-President J.F. Kennedy on the 22nd November, 1963.
The city is famous for its beignets. According to the Cafe du Monde website, New Orleans beignets are square pieces of dough that are deep fried and topped with powdered sugar.
Turtles and alligators are readily available throughout many restaurants in the city. It is said that some of the local favourites are alligator and turtle soups.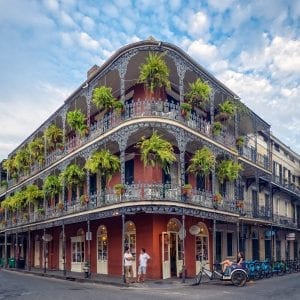 The oldest college of commerce in the United States is Tulane's school of business.
A song by Professor Longhair inspired the name of the nightclub Tipitina.
In 1807, the first "skyscraper" of New Orleans was built. Standing on the corner of Royal Street and St. Peter Street in the French Quarter, it is a four-storey building in the city and is still in use.
Paul Morphy, the great chess master, was born at 1113 Chartres Street in the French Quarter. The house he lived in is a museum today named Beauregard-Keyes house.
New Orleans is widely considered to be the birthplace of poker and craps.
What is New Orleans famous for?
New Orleans is world famous for jazz music, its Mardi Gras, French and Spanish architecture , Creole restaurants, and buzzing nightlife.
Do you know any interesting, fun or strange facts about New Orleans that we've missed? Share them with us here in the comments section below!
This page was last modified on December 14, 2020. Suggest an edit