14 Enchanting Facts about El Salvador
Want to find out some fun facts about El Salvador? Maybe a friend or loved one has immigrated and you've been left wondering about its local history and geographical facts? Take a look at these fun facts about El Salvador to brush up on your knowledge!
1. Where exactly is El Salvador?
El Salvador is a small country in Central America, on the coast of the Pacific Ocean.
It is bordered by Guatemala to the northwest and Honduras to the northeast and east. It also has a coastline along the Pacific Ocean to the south.
2. But what about the longitude and latitude?
To head for the sun, sand and surf in El Salvador follow the coordinates 13.6667° N, 89.1667°.
3. It's a fantastic holiday destination for volcano spotters.
The terrain here is mostly mountainous with a narrow coastal belt and a central plateau.
El Salvador is home to some of the most active volcanoes in the world, giving it the nickname 'Land of Volcanoes'!
4. El Salvador is small but mighty.
The total land area of El Salvador is 8,124 square miles (21,041 square kilometers), around twice the size of Yorkshire – that makes it the smallest country in Central America!
5. It's also densely packed!
El Salvador's population was 6.454 million in 2019 – that makes it the most densely populated country in Central America!
6. The capital of El Salvador is…
The capital, San Salvador, covers an area of 28 square miles (72 square kilometers) and had a population of 238,244 in 2017.
7. You're likely to live long and prosper, here.
The average life span here is 73.1 years. (2018)
8. It's mostly humid down in El Salvador.
El Salvadorians enjoy a tropical climate on the coast, with a rainy season from May to October and a dry season from November to April, whilst further inland the climate is temperate.
9. Time to brush up on your language skills!
The official language of El Salvador is Spanish. Hola!
10. What can you spend in El Salvador?
The United States Dollar is the official currency here.
11. El Salvador is a surfing hotspot.
El Salvador is hailed as one of the world's best surfing destinations; it's even hosted the World Surfing Championships in the past.
12. There are plenty of social rules to follow.
It is customary for women in El Salvador to greet each other by exchanging a pat on the forearm or shoulder, rather than shaking hands.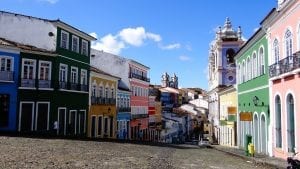 13. The country grows and exports a wide variety of resources worldwide.
El Salvador grows coffee, sugarcane, corn and rice, rears cattle and catches shrimp… we bet the coffee is nice!
Its industry consists of tourism, food processing, beverages, chemicals and petroleum. El Salvador also exports offshore assembly exports, coffee, sugar, textiles, shrimp, chemicals and electricity.
14. Want to call El Salvador?
Before you grab your surfboard and head for the sunny shores of El Salvador, write down the international dialling code for your friends and family so that they can keep up to date with your adventures! It's +503.
FAQs about El Salvador
Who or what is El Salvador named after?
El Salvador is actually named after Jesus Christ, as it translates into Spanish as 'the saviour' - its full name is Republica de El Salvador.
What food is El Salvador known for?
El Salvador is famous for its flatbreads made of cornflour - stuffed with delicious cheese - called pupusa.
Do you know any fun facts about El Salvador?  Share them in the comments below!